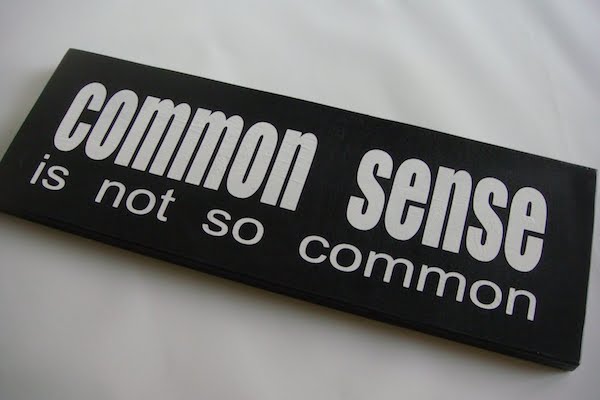 After five years of austerity and a humanitarian drama that ranged from loss of lifestyle to real poverty, it is high time for what some call the 'common sense' perspective, primarily in the way we view economic, political and social developments.
What this common sense list could include? Elements of everyday politics, to begin with, enriched by a direct contact between people and politicians; this is a relationship that requires some sound communication moments that could lead to unilateral understanding of the situation at hand. These would help politicians to survive next national elections and citizens to cope with the fact that things are going to get a little worse before they start getting better.
The reasons behind the crisis, our bad selves and the incompetence of politicians have been adequately analysed in the last half-decade or so. Not to mention that current problems and their painful 'solutions' have been nothing more than what analysts and economists in the academia have professed since the 1980s.
What we need is to leave all this autopsy material behind us, and plainly improve our ability to live on our own resources and move ahead. To manage that, we need to employ some old-style Greek common sense to filter the way we view things and adopt some way and means to escape the impasse. For instance:
1) Truly, the crisis has been unprecedented, at least for younger generations. Older Greeks have experienced the catastrophe of WWII and the Civil War that followed; they couldn't imagine, though that their lives would be concluded at the bottom of the economic cycle, at household as well as national level. Perhaps it makes sense to cut pensions to help young people. However, the former without the latter could really be disastrous for those in charge.
2) Explain what you do. Instead being preoccupied with the blame game and the references to the politically dead, the government needs to communicate directly with the people. In today's Greek 'attention economy', traditional media are discredited (and fight for their survival) and internet strategies remain terra incognita for Maximos Mansion spin-doctors.
3) For those political parties that claimed their expansion to a wider political spectrum, election dominance always depended on their ability to penetrate the centre, attracting non-partisan crowds and mobilizing previously indifferent voters. At present, this means that the centre-right ruling party should look less toward the Right and the main opposition less toward leftist radicalism and populist genres.
4) Just like newspapers, politicians rely on the youth for their survival. For the time being, young people, despite the fact that they maintain a strong political presence on social networks, they remain isolated from mainstream politics. They love to share their thoughts and interact with their peers in the same manner they enjoy ridiculing politicians who promote clueless Facebook postings. Lots of 'private' social groups create online microclimates that are hardly penetrated by mainstream politics. So, politicians need to think again on this one.
5) Although politicians desperately need the youth, the latter need opportunities and fewer obstacles in order to succeed and make a living. Despite the crisis, there are simple solutions that could mobilize creativity and hopefully new (and profitable) business models. The next point on the list makes all these efforts impossible.
6) Red tape is a burden to everybody: taxpayers, businesses and ambitious investors, despite the fact that one would expect that half a decade of Greek crisis and soul-searching should have triggered some change in the field. Very few things have been accomplished (improvement in competitiveness rankings was mainly achieved due to salary cuts and relaxation of layoff processes). Red tape continues to be a major counter-incentive for most ideas coming true in the local market as well as for foreign investors who wish to spend their money on FDIs. The internet is full of stories of young people who managed to fight unemployment through the materialization of an idea that was later destroyed by Greek bureaucracy.
7) It is common ground that national growth strategy needs to rely on the competitive advantages of the country: health infrastructure, residency market, sophisticated tourism, alternative energy and education-cultural businesses constitute key areas for the future that combine traditional values, innovation and cross-discipline planning. We have nothing of that yet; only plans attacked by more red tape and petty interests, partisan or other.
8) The regional dimension. All aforementioned fields of potential growth could attract the interest of investors from a vast geographic region. Greece remains a cluster of peace and calmness in the region. Common sense in our foreign policy suggests taking the middle ground, trying to accommodate as many interests as possible for the largest possible number of players. What is also required is the acknowledgement of the need to strengthen the country, not only through its historical roots, but via the efficiency of state apparatus as well as the launch of a new economic and entrepreneurial model.
9) People cannot afford to pay any more taxes. Further to the tax attack (and pension cuts) adopted by the state as the only feasible means of securing public revenues, the burden on households has increased due to prices of goods (that in most cases remain in pre-crisis levels) and operational costs such as heating oil (the price per litre has tripled since 2009), telecom tariffs and electricity bills – the latter have increased more than 40% in the last four years (another 25% increase is expected next month – Oct 2014).
10) The crisis has hit Greek households relentlessly and as long as citizens continue to consider themselves as targets of excessive austerity measures, politicians' messages will remain irrelevant for most people. Ministries' gaffes that are corrected only after citizens' reactions and complaints, as well as threats against households, make things even worse.
If government officials were asked, they would reply that all above indicative issues (or concerns) are acknowledged by the government. The problem is that nobody is seeing this in practice, and what's more, no one is aware of what the government is really doing. Transparency and a continuous flow of trustworthy information would have assisted towards a general understanding of the situation as well as its potential solutions. To put it plainly, the government newsroom should be operational 24X7 acting as a direct source of information for audiences and media professionals alike.
A few months ago, the turning point seemed close. The coalition government appeared as being capable to turn the ship around. Then the ENFIA fiasco came that combined yet another attack against all landowners with injustice, even stupidity. Key communication moments such as the Paris troika meetings, the IMF hypothetical debt conference, the Amphipolis show and Samaras' short-term initiatives are unable to correct the climate.
Every day that goes by is a day lost for the government, which in its present mode is approaching the point of no return faster than ever.