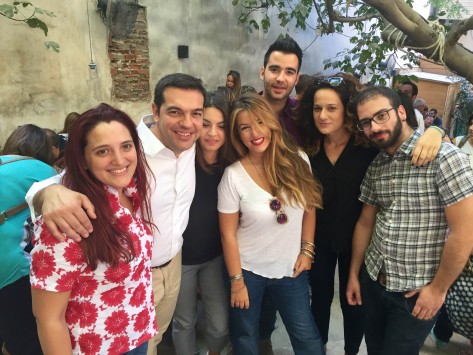 Alexis Tsipras (not SYRIZA) is credited with the election success. His personal appeal has climaxed in the Referendum (61.3%) to be severely tested in the aftermath that led to the signing of the new bailout agreement. On Sunday September 20, he once again gained momentum, and he is about to restart his 'Left' governance.
"Tsipras, has a level of political durability that few could have predicted – a large section of Greek society is willing to be incredibly patient with him," The Guardian writes, and it is probably right.
Young people supported Tsipras; 40% of the 18-24 age group have voted for SYRIZA (18% for ND, 11% for Golden Dawn); most of them would like to think that they voted for him rather than his party. Young people like Alexis, but for how long are they willing to put up with him?
Recent studies abroad have found that the Millennials (i.e. Generation Y) are building their own networks through social media – rather than through political parties. Half call themselves political independents, the highest share of any generation. Thus, it could be argued that the young people who en masse gave a second chance to the Left government should not be considered as SYRIZA sympathizers; they are seasonal supporters who wish to do more, namely they are willing to go 'AFK' and participate in the political process through the traditional ballot box.
What the Millennials really want is a sense of security for the future, as well as jobs, but most importantly someone to lead with whom they can identify. Currently in Greek politics, Alexis Tsipras is the best possible candidate, despite the fact that even himself could be considered as a refined product of the old system. Voting for Alexis is the best young people could do under the circumstances.
On the other hand, Millennials are aware that they are political orphans, and considering the synthesis of the previous cabinet and providing Alexis T. will not put forward some spectacular changes, the youth will continue to feel alienated from the leader's older comrades, ministers-turned-TV-panelists, who appear to talk funny.
Millennials have some unique characteristics Tsipras' ministers would find hard to understand. They believe in autonomy (thus they are difficult voters) and reward, they are imaginative and require the attention of others. They value achievement, they like informality and a real meaning in life. They are also pro-transparency (anti-corruption), and they believe in fairness and political correctness.
When we think of Greece's future, Millennials and Gen-Xs are the first they come to mind. The youth and less-young-people-pushing-fifty -known also as the 'lost generation'- constitute the core of Greece's new effort. New ideas, innovation, startups and attempts to modernise the country's traditional competitive advantages aiming at quality originate from these groups.
If Alexis Tsipras is determined to follow and facilitate this dynamism at a personal and collective level, then he will win these people's support for life. Public sector management and professionalism, state's effectiveness, open mindedness and ideological freedom could be the necessary materials towards this end.