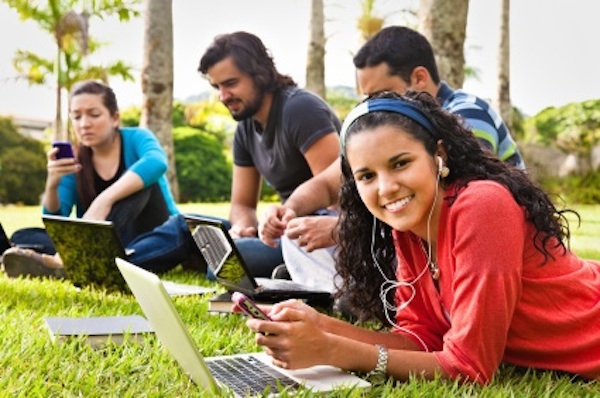 A few weeks ago I had the chance leading a summer workshop at one of Greece's finest schools of secondary education; a private one. The title of the workshop was 'Social Networks, Selfies and Digital Crowds'.
For those who are quick to wonder: "Can you really lead a meaningful discussion on selfies amongst teenagers?" The answer is "sure you can". However, this is not my topic here.
Participants of the workshop comprised of students mainly at high school level who joined the class to listen to and discuss stuff they probably already knew from their everyday life.
Preparing for this class I had to research on the interrelation between social networks and schooling. Most of my findings, naturally, referred to foreign educational systems in Europe and the US. The major concern was the compatibility of the two, primarily as regards teachers' ability to productively challenge the young generation in its turf.
In Greece, traditional academic, professional and political players still appear to be very skeptic towards the phenomenon of social networks, which rules the lives of teens. Just like old-minded corporations, schools tend to build walls around them, namely silos that could allegedly control messages from spreading out or getting in.
Innovative cases do exist in different fields across the country, however they are constrained by the educators' lack of advanced digital skills, as well as educational techniques, which remain obsolete in many respects.
In countries like Greece, the most important problem are those who do not wish to change; these people usually inhibit progress, either because they refuse putting some extra effort to study and learn new techniques and their significance, or due to their inability to grasp the implications of new reality.
Some interesting facts from different US sources, as regards the situation abroad:
– 95% of teens (12-17) use the internet;
– 81% use social media (compared with 72% of internet users overall);
– 50% log into social media more than once per day;
– 21% of kids under-13 use social media sites;
– 26% of kids under-13 have a YouTube account.
In a survey of girls aged 6-12, 33% said they were saving their money to buy new technology: 20% said they were saving for a smartphone; 48% said that they have a cellphone; 51% of those said that they have a smartphone.
The majority of teens are using laptops (35%) and tablets (32%) to access their favorite websites. YouTube is the most popular site, with 45% of teens saying they access it most often.
In a survey of kids 8-12, 35% said that Facebook was a site that they didn't use but was more for parents, while 38% said they use and enjoy Facebook. Only 8% of these kids reported using Twitter. 23% of teen girls reported Instagram as their favorite app.
In Greece, 52% of children use the internet in their own bedroom (above the European average 49%) and 66% of them accessing it on their mobiles (the highest figure in Europe where the average is 22%), according to research figures published two years ago. The age of first internet use is ten, which is common, whereas 33% of children aged 9-12 years old in the country use one of the popular social networking platforms (the most popular being Facebook). This number rises to 70% when it comes to teenagers aged 13-16 years old.
Let's go back to my personal experience. Workshop took place at a state-of-the-art facility equipped with an astonishing variety of digital devices. Large interactive touch-screens and new generation data projectors made things much easier; even triggered some additional effort on behalf of the instructor. RFID technology was also used on visitors' and staff name tags. As a visiting parent put it, "everything you touch in this building, does something."
A student in my class was quite observant to comment that new data projectors installed on top of interactive boards are much more practical than the old ones, since they allow instructors to move freely in front of the projected material. Trivial? Not at all. Those who have been teaching in front of the beam of light for too long will definitely welcome this technical improvement. If properly used, technology can be a very powerful platform upon which the curriculum could unfold.
Besides, in this new, multi-message world of ours, gaining the uninterrupted attention of teenagers sometimes is an impossible task. Their attention span is limited and after a while they find themselves searching for the next stimulus, online or not. So, new techniques of message delivery need to be developed by instructors, who have to combine a deep knowledge of the material with the ability to construct meaningful imagery students can identify with.
In a book titled 'Managing the Millennials,' the authors argue that young people are seen as valuing work-life balance, diversity, self-expression, technology and social responsibility. They are the most socially and diversity tolerant generation ever, as well as the most educated and technologically savvy. They comprise the fastest growing segment of the workforce.
For most Greek educators, managers and politicians alike, the real character of young people constitutes terra incognita. Thus, the generation gap continues to increase in education, entrepreneurship and politics, along with the lack of meaningful productive processes.
If we really look into it, we will discover that today's educational system, especially in countries hit by the crisis is absolutely useless to serve young people needs.
What's worse is that growth in the knowledge-based economy requires exactly that. Educational innovation, across the board, covering from elementary school to universities, should constitute the main priority placed at the top of the agenda, at the highest level of political power.